Stillwater, MN Black Dirt
If you are looking for high quality top soil that encourages root growth, at Rick Buberl & Son Black Dirt, that is our specialty. Trust us to produce high quality black dirt, topsoil and custom mixes.
Multiple options suited for your needs
All prices are per yard.  Prices are picked up- call for delivery prices – 3 yard minimum for delivery
Pulverized & Screened
Black Dirt – Top Soil ~ $20
Garden Mix
Dirt-Compost-Manure-Sand-Peat-Mulch fines ~ $25
Perennial Mix
Peat-Compost-Pine bark-Dirt-Sand-Mulch fines ~ $35
Rain Garden Mix
70% Sand 30% Compost ~ $25
Compost

Custom Mixes
depending on what you want
Clean Compactable Fill
Get nutrient rich black dirt mixes promptly delivered directly to your home or job-site when you call Rick Buberl & Son Black Dirt today at 651-430-8185.
Top Soil Delivery
Our service and prompt delivery of top soil will have you planting and seeing results in no time. You can rely on Rick Buberl & Son Black Dirt for prompt and quality top soil.
We deliver black dirt to areas near Stillwater, along with Western Wisconsin and East Metro. Contact us today to discuss if we provide delivery to your area.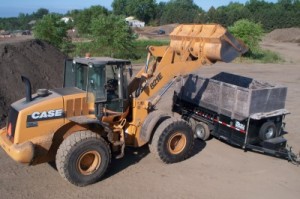 Enrich your soil throughout the year
Increased garden production
By regularly mixing black dirt with your soil, you will see an increase in production, and a reduction in the time required tending to your lawn and garden. Healthy root systems have proven to produce flourishing gardens and turf.
      Fruit and vegetable gardens
      Flowers
      Shrubs
      Trees
      Annuals and perennials
Calculate
Use this calculator to find out how much dirt or mulch your project needs.